Merry Christmas!!
I *LOVE* Christmas Eve. And I particularly can't wait to see how my girls react to everything we have planned before they go to bed.
With that in mind, I thought I would share with you a couple of the favours I've made to dress my table. We actually hosted dinner last night for my parents, and tonight we'll welcome Shirley and my brother in law, as well as one of our favourite friends.
For last night's dinner, I created these incredibly cute little favours, inspired by
Nichole Heady
.
I just adore them!
You just take a coffee filter, stamp your little heart out, and fill them with just a little less than a 1/4 cup of Smarties.
My Tiny Tags came in super handy, because they are the *perfect* size to finish these little guys off.
You can see that they take up no space, and the fluff of the coffee filter does most of the work for you!
For tonight's dinner, I created a little treat using the Lunchbox Note die, to create a little favour for our guests.
I put my snowflake goodies to work, since that is the theme around here (oh, had you not noticed? *wink*)
They are the perfect size to squeeze a little Ghiradelli square into...
And on a non-crafty note... I saw this idea online for a table centerpiece and I knew I had to try it!
A candle sitting in a snow filled jar! My candles aren't the best size, but they were all I had in a pinch. All you do is fill a canning jar (I got this vintage one from an antique shop) with epsom salts and put your candle in it.
I lined three of them up in a row down the center of the table... I love how they look. I will be doing this again, for *sure*!
And that's it for me and Christmas 2011! I can't believe it's here already, really. I doubt you'll see much of me until the New Year, but starting sometime in January I have a few new things planned for around here. I'll be resuming my Festive Friday posts, and also bringing a couple of new weekly posts for you as well. Stay tuned!
So, I wish you, my lovely readers, a beautiful holiday with your families and loved ones, and I hope that Santa is kind to you all. And if I don't talk to you, have a great New Year's, and may 2012 be full of all good things for you!
MERRY CHRISTMAS!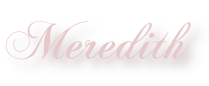 Pin It